Santorini Tastes Good Too!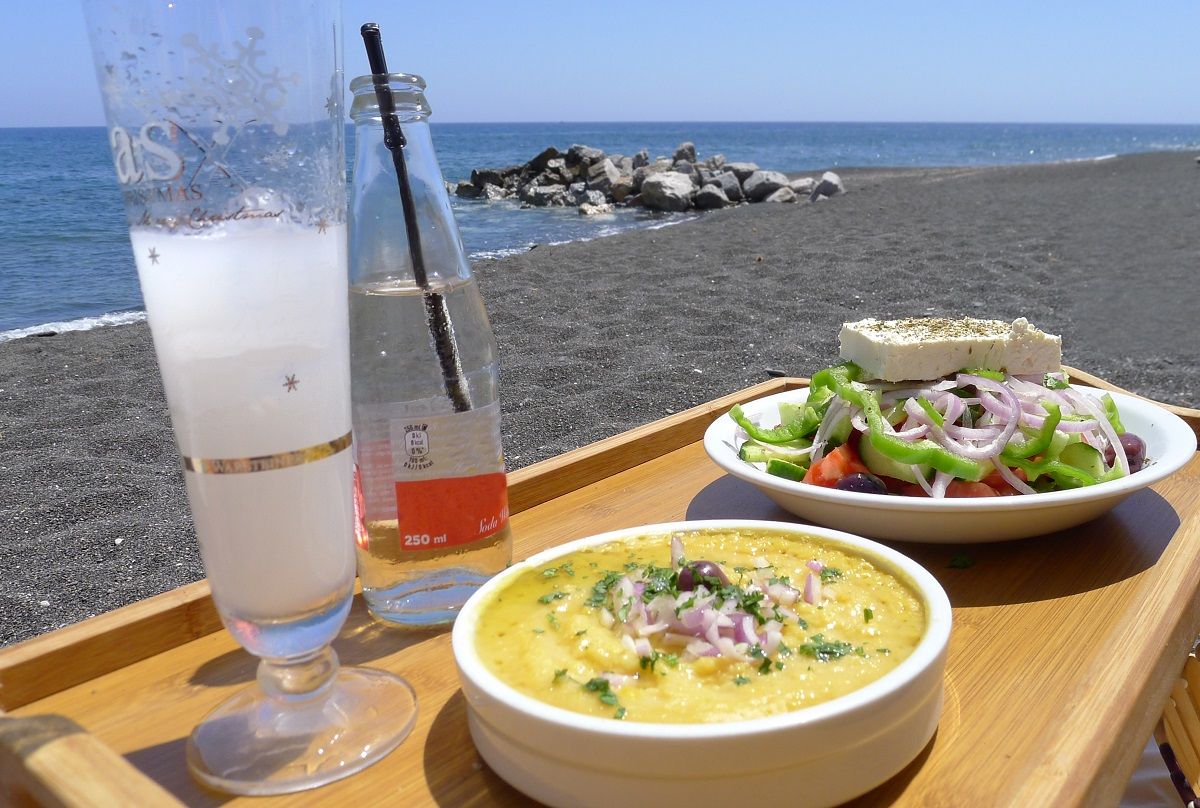 As its fame has grown to legendary heights, so has Santorini's fine dining scene, with top chefs introducing gourmet creations that pair perfectly with the island's delectable wines (or beer like Red or Yellow Donkey that's brewed on the island) and outstanding surroundings. Its traditional, authentic cuisine, however, is still the star of the gastronomic show, and it would be a shame to visit the island and not sample customary homemade-style dishes, made with products that are grown in the unique volcanic soil, served up in its classic tavernas.
The small, round 'tomatini' tomato endemic to the island grows on humidity alone, and upon biting into it you experience a burst of succulent, sweet flavor. It is turned into tomato paste that can now be bought nationwide and online to give pronounced palatability to foods, and in its fresh form it is served in the Greek salad topped with sharp, creamy mizithra and a handful of firm, juicy capers (another native delicacy) or in the island's famous tomato patties. The latter dish, called domatokeftedes, includes tomatoes, feta or goat's cheese and flour, fried into crispy balls.
Another Santorini classic you're sure to find at any traditional table is the golden yellow fava, made with the island's top quality split yellow peas that are boiled with onion and blended with olive oil before being served up as a velvety side dish topped with raw or caramelized onions and pickled capers.
Greece's delicious dip made from aubergine (melitzanosalata) is another Santorini specialty that is made with the white aubergines (Solanum avigerum) that are endemic to the island. They are sweeter, firmer and lacking in the bitterness of common purple aubergines. The aubergine is roasted and then blended with olive oil, a dash of vinegar and garlic.
To round off there are a couple of delightful sweets the Melitini and the Ntourtouletia, that are local treats that were only made for festivities and special occasions. These come in the form of little tartlets with a delicate filo pastry, one stuffed with a sweetened fresh myzithra or anthotyro cheese and the latter with crushed honey roasted almonds.  You can find these in most good tavernas and patisseries as everyday is a special day on Santorini.