Old Town Corfu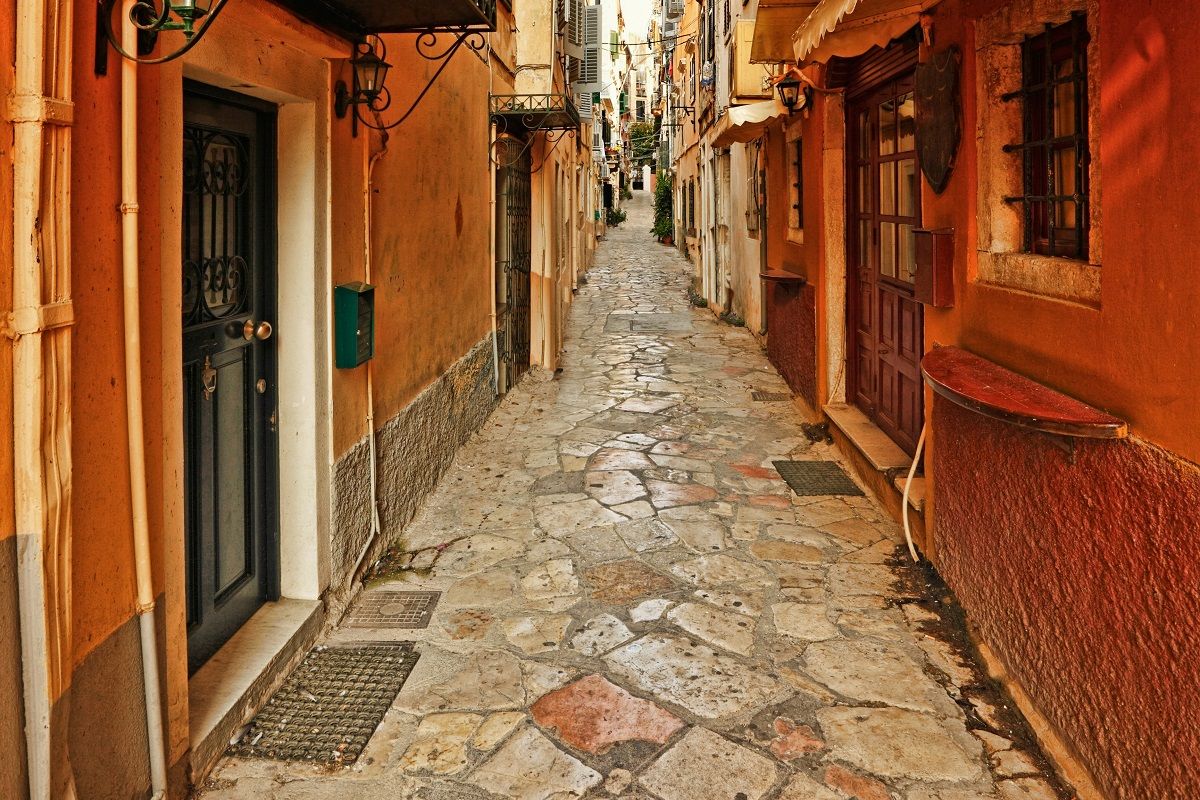 Old Town Corfu has something for everyone! Head down to Kavos, with its throbbing beats, British pubs, free shots and endless exhortations to party like there's no tomorrow and you can come away feeling slightly grubby. Alternatively, make your way to Kassiopi on the North West coast, where oligarchs park their super-yachts and scions of the New World Order divide the spoils like latter day Homeric conquerors. Don't be surprised to find Petrus on the wine list at the local taverna.
Nestled in the middle, both geographically and spiritually, of these two extremes is the beguiling capital, Corfu Town. Fiercely proud of never having submitted to Ottoman rule, this elegant town wears its influences on its sleeves. Tall buildings line alleyways in ice cream shades, tutti-frutti colors dotting the skyline under terracotta roves. Over there, on the parched grass, white clad figures play that most quintessentially English game, Cricket, within a French-style beflowered square. It feels much closer to Italy, betraying its Venetian and Sicilian history. Then your eyes take in the unfamiliar alphabet of the shop signs, your ears grow accustomed to the babble of the local lingo, and your nose catches the smell of cinnamon from the corner bakery. This could only be Greece.
The Old Town lies on the northern side of the city beneath the New Fortress - new is a slight misnomer here, construction having begun in the late 16th century. This is a place for a mooch, an aimless stroll; somewhere to follow your nose past imposing mansions, and down shaded backstreets seemingly untouched for centuries. Under the terraced arches on Avenue Liston, modeled on Rue De Rivoli in Paris, stop for a drink at one of the numerous cafes - you've earned it. Take some mezedes and plan your further explorations. Maybe to the Palace of St George and St Michael (Palaia Anaktora), or beautiful Mandouki, or to the imposing majesty of Spaniada Square, the second largest in Europe after St Mark's in Venice. If you are lucky enough to be here at Easter, join the procession through the city of the patron saint, Agios Spyridon, culminating in a visit to his mummified body in the church. Kiss his feet for good luck, then watch, from a safe vantage point, as the local Corfiots throw amphoras full of water from their balconies to smash on the streets below. It is one of the great Greek traditions, and unique to the island.
Finally, make your way down to Kanoni and grab a snap of the impossibly pretty church of Panagia Vlacherna by the tiny eyot of Pontikonissi (Mouse Island). Corfu Old Town rewards at every turn. A world away from the disco drone of the southern resorts and the braying bores of the northern villas, you'll be glad you came.