Achilleion Palace, For Your Eyes Only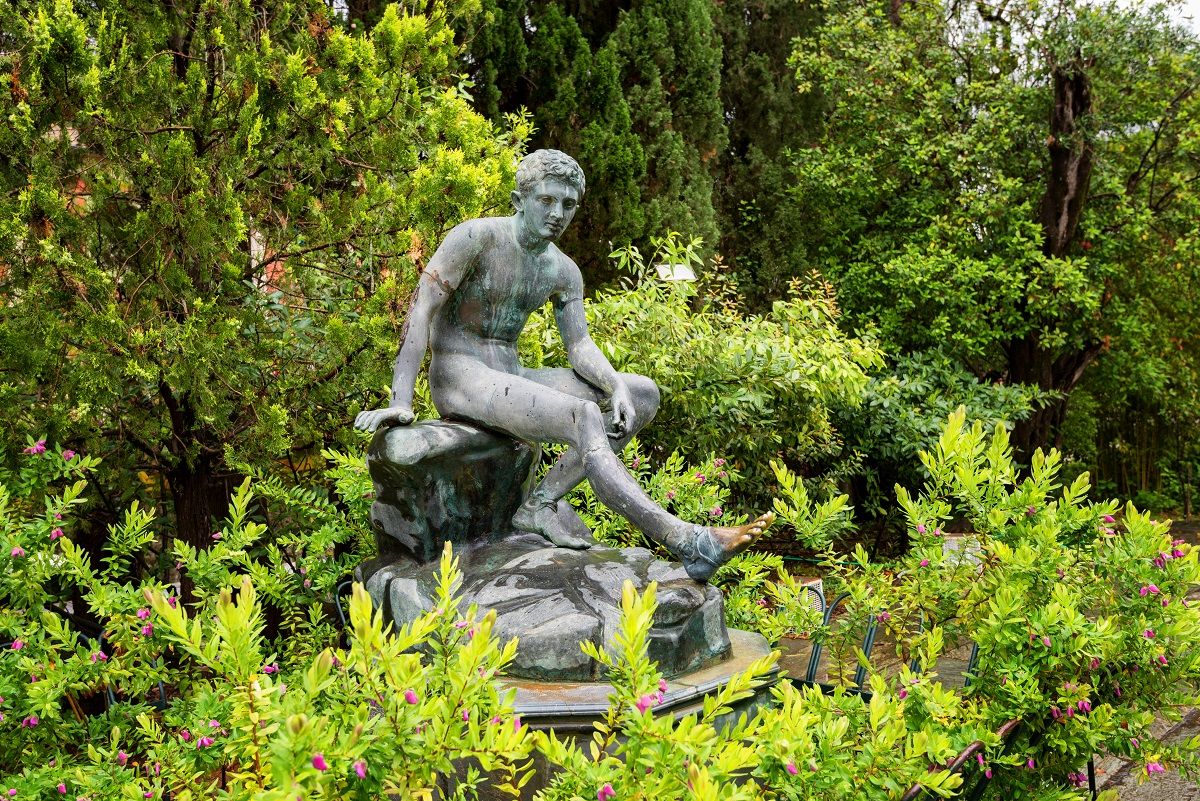 "For Your Eyes Only". 1981. James Bond plays Chemin De Fer in a Corfu casino. As ever, he wins. He leaves the gaming tables, and eats dinner in the opulent restaurant; Bond ordering Ouzo, his arch nemesis, Kristatos, whisky, no ice. Later in the film, the heroine Melina, looks out across to the Albanian coastline from the terrace. Sighing, she says "My father loved the view from here, " and, naturally, proceeds to swoon in Bond's arms. 
The location, of course, is the Achilleion Palace. 10 km south of Corfu Town, on top of the village of Gastouri, it was completed in 1892 for the Empress Elizabeth of Bavaria. A celebrated lover of Greek culture she wrote - " I want a palace with pillared colonnades and hanging gardens - a palace worthy of Achilles who despised all mortals and did not fear even the gods." Like most queens, she got what she wanted. It really is an impressive place.
A neo-classical style villa in the architectural manner of Pompeii, it was named Achilleion to honor Homer's hero Achilles, with a celebrated statue of the dying champion pulling an arrow from his heel, taking centre stage. A fresco in the main hall shows the warrior dragging Hector's lifeless body past the gates of Troy. 
Empress Elizabeth, commonly known as Sisi to her chums, used the palace as a summer home until her untimely assassination at the hands of an Italian anarchist. It was later bought by the Emperor of Germany and King of Prussia, Wilhelm II. He commissioned many changes to the palace and gardens including an imposing 8m high bronze statue inscribed at the base - "To the Greatest Greek from the Greatest German". Surely, even Bond may have arched an eyebrow at the presumptuousness of that! 
Wander through the elegant gardens, take in the splendor of the palace itself, marvel at the sheer grandeur, and finally settle on that magnificent terrace. Spend a few minutes and imagine yourself as an Empress, a King, or even James Bond himself. Take in the surrounding hill crests, framed by mighty pine trees and the glittering Ionian Sea. Undoubtedly, the best view in the whole of Corfu.