A Natural Lake with Healing Powers!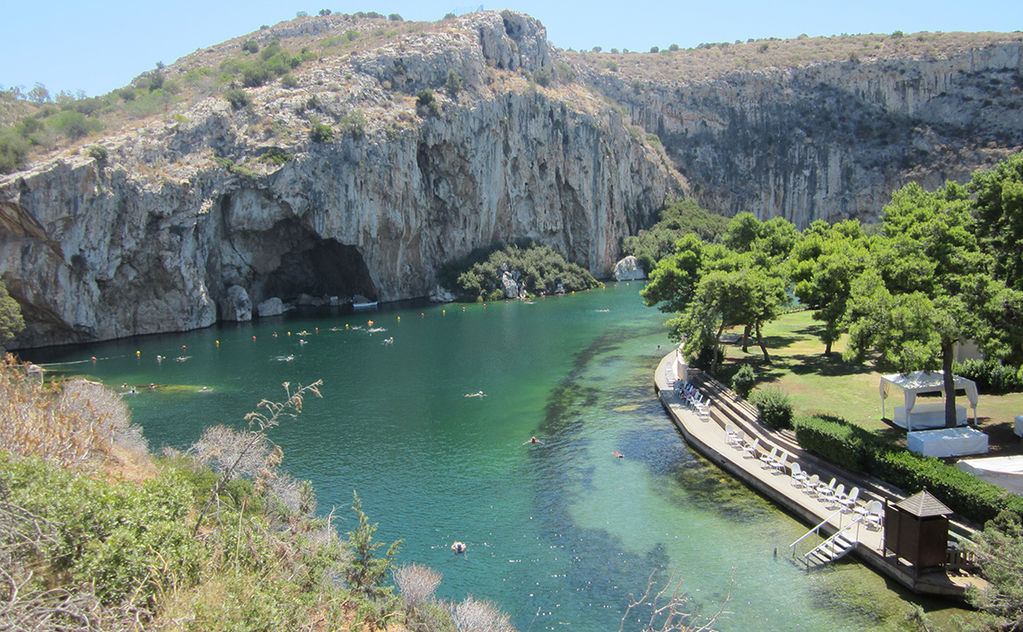 Are you looking for a break from downtown Athens and visiting ruins and museums? A place I love, which is generally not on most travelers' radar, is Lake Vouliagmeni. Talk about amazing! This place is not only visually breathtaking but it also happens to be a natural mineral spa with many healing properties found in its crystal clear waters. In addition, the lake is filled with many little "fish doctors" that will nibble at you if you lie still and eat away all the dead skin cells on your body. It feels a bit weird at first; it tingles and even tickles, but trust me, you get used to it and you'll love the way your skin will feel afterwards, soft and beautiful. Swimming here is truly therapeutic for the mind, body and soul. Lake Vouliagmeni offers hot spring baths, hydrotherapy and physiotherapy during the summer months.
The entrance is 9€ for general admission and 16€ for VIP – the VIP section has a grassy garden, sun-beds with waiter service. It's really not expensive if you consider that most private beaches in Athens charge anywhere from a 6-25€ entrance fee, and though beautiful, they don't have the same healing powers as the lake. The facility also boasts a bar- restaurant and café as well as other amenities including a children's play area.
Now, some of you may think that it's too far off the beaten path, especially if you're staying in the center of Athens, but getting there is easier than you might think. All you do is take the coastal tram (from the center of Athens) and connect to one of many buses to get there. Or you can take a cab ride there too. Regardless of your choice of transportation, once there, you'll be glad you made the trip. 
Finally, on a personal note, I highly recommend you stay through the awesome sunset – the colors, the chill vibe and the spectacular scenery are definitely worth it!