Romantic Adventure – Paleo Pyli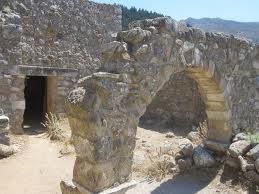 Visiting Paleo Pyli in Kos is a romantic adventure! A bumpy road, a hike and a bit of a climb, but oh so worth it! What you get once you're there…The ruins of an old Byzantine fortress and village coupled with spectacular, panoramic views over salt lake, Tigaki and Kos' coastline – breathtakingly romantic during sunset. You can even see Turkey from up here!
I recommend you wear comfy, walking shoes and bring bottles of water – especially if you go on a hot summer day. Look out for goats that might cross your path, they're harmless and part of the areas charm. You'll also come across a traditional Greek tavern on the hill that has a great view of the castle. It's also the ideal place to stop, take pictures, take a breather, get a drink or a bite, and enjoy the view of the castle.
Paleo Pyli is remote and hidden, yet beautiful and serene and the perfect spot to watch the sun set over Kos. It is, perhaps, the most romantic place on the island though getting there is definitely an adventure.