Brettos: Where everything is colorful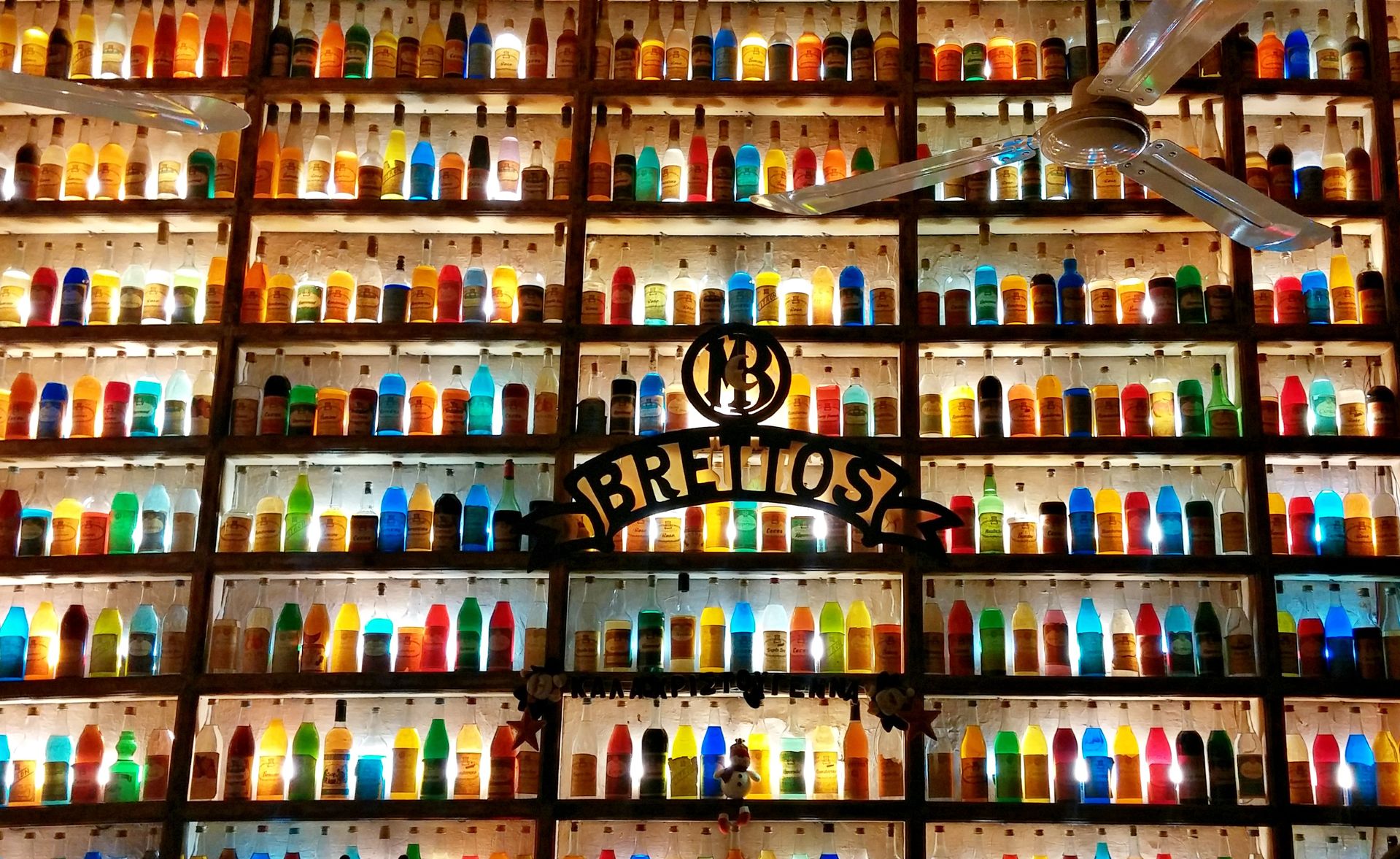 So you are in Athens, wandering around the little paved pedestrian streets of Plaka and you really just want to do something different rather than go to yet another tourist tavern. Well, don't you worry because I have the perfect place for you to enjoy your drink.
I am talking about Brettos, the oldest distillery in Athens and the second in Europe. I am sure you've heard of it and its famous showcase with hundreds of colorful bottles and lamps! And if haven't been there yet, well you are really missing out!
The decoration of the space is the hallmark of this bar and the first thing that stimulates your interest, even when you are just passing by it. Something remarkable is that the space has been preserved in its original form! The walls opposite and in front of the entrance are decorated from side to side with old wooden shelves reaching up to the ceiling, where you can admire dozens of beautifully lit bottles of colorful content.
On the other hand, there is the wooden construction with ouzo and brandy barrels, which are almost the same as a grocery store. In front of the shelves with colorful bottles extends the shop bar, a wooden bench with a marble surface, glass windows and a wooden stool, where guests can taste their favorite drink.
Brettos first opened on the ground floor of a neoclassical building in the heart of Plaka, in 1909. Its founder, Michael Vrettos, started making ouzo, brandy and liqueur, from old time classics to cherries and pepper to the most special citrus and mastic, traditional Smyrnai recipes. Ouzo Brettos is the first in-store product and is produced according to the original recipe and the traditional distillation method that Michael Vrettos used in 1909. A recipe which, with the addition of aromatic plants, anise and mastic, creates one of the best ouzo of Greece.
Still to this day, even after so many decades, Brettos is still the best place to have a drink after work, after a good meal or a last drink before heading back home. Inside Brettos there are no lifestyle codes and there is always low music coming from a small radio. Many locals find it to be the perfect place to escape the rhythms of everyday life and to share with the friends the experiences of the day.
So if you are interested in visiting an original shop that will offer you a wide variety of drinks that you can enjoy in atmospheric scene, then take a stroll to "Brettos" from Plaka.