Running Across Santorini Island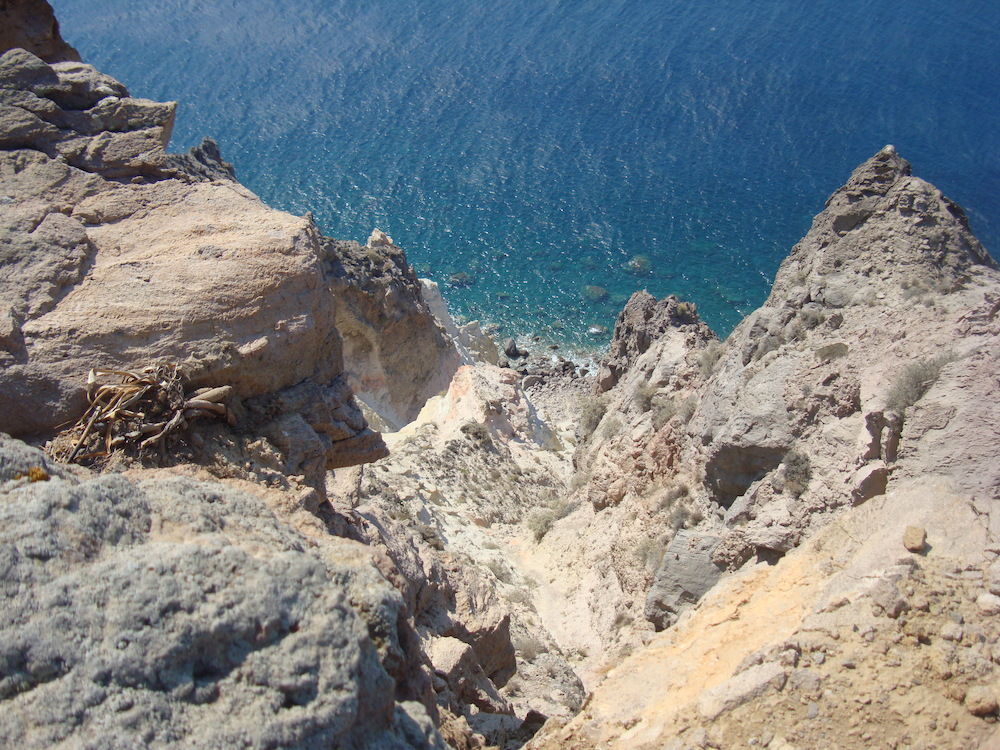 Running Across Santorini Island.
There's something remarkably magical about exploring Santorini propelled only by one's legs and spirit!
It has been a long time goal of mine to run the entire length of the island. - An incessant itch that just would not subside. The opportunity to realise my goal arose at 6:30am one early September. This is when I found myself in the passenger seat of my uncle's rickety old jeep, windows wound down to compensate for the lack of air conditioning and heading towards Oia village.
The previous day I'd run a shorter distance in order to acclimatise my self to the island's heat and humidity. Soon after I meticulously planned out my route. Starting at Oia Villiage I would take the road which for the most part runs along the caldera. Heading towards Imerovigli village, Thira, Athineo Port, Akrotiri and finishing at the south tip of the island at the lighthouse. With all the twists and turns, ups and downs, I'd estimated an approximate distance of 27km.
Why run Santorini? 
In all honesty I could write an entire book based on my Santorini run, but I'm not going to. Instead I'll highlight some observations and a few thoughts.
Running the entire length of the Caldera is in itself an unforgettable experience but there were other moments that equally stood out. 
For almost all the duration of the route I could smell the grapes and acidic volcanic soil.
When I reached the island's capital of Thira, I found it to be surprisingly desolate. Most of the tourists had wisely opted to spend the day at the beach. I couldn't help but feel sorry for local shop owners whose hopes were dashed as the running footsteps turned out to be mine and not a cattle load of foreigners wanting to buy stuff. It was here that I decided to make my first pitstop and replenish my water supply.
Just after Thira at the Santo Winery I was taken aback by the wonderful fragrance of fermenting grapes. This coupled with runner's endorphin overload made me a little light headed, in a very nice way.
The lonely road. 
Santorini is one of the top holiday destinations in the world, so imagine my surprise when I came across a long stretch of road which had almost no traffic. I slowed down to a trot and just took in the landscape, relishing the moment. In the distance I could make out a small spec which was my first sighting of the lighthouse.
The lighthouse. 
As I drew nearer to my destination the now scorching heat was doing a tap-dance on my head. Luckily  a breeze had picked up, which helped keep my body temperature down. Passing a small taverna I was greeted by the enthusiastic shouting of a man with the body mass of a small planet. I surmised that this must have been the proprietor. He was waving and calling me over for a beer and a Meze. (Small greek delicacy) With unwavering resilience I smiled politely, pointed forward and thanked him for his kind offer. (Why I didn't take the beer still haunts me to this day)
 Reaching the lighthouse 
Reaching my destination felt wonderful, although looking at me you'd have never imagined it. I was covered in trail dust, a combination of sand, salt and sweat. It was safe to say that I didn't look like the belle of the ball. Nevertheless I was happy to have completed the run. It had been an amazing adventure. Meeting so many people and experiencing so many new things. The view from the lighthouse was inspiring. I could feel the full force of strong Cycladic headwinds smashing against my chest. The perfect end to an epic run.
RECOMMENDED SANTORINI RUNNING ROUTE FOR ALL LEVELS OF RUNNER
There is a dirt road running along the Caldera from Oia to Thira. It's extremely safe and there is no traffic. Very easy to find. Ask any local to point you in the right direction.
MY TIPS ON RUNNING IN GREECE
Get an early start to avoid the heat. If you're planning for a long run then it's best to start as early as possible. 6:30am - 7:00am. is a nice time.
A hat and sunblock is essential.  Take sunblock with you, you'll need to apply it more than once to avoid burning. Wear a hat. Any kind of hat. Plain, serious, corporate, I love NY or My Little Pony is fine.
Always take a sufficient amount of water. In hot and humid climates it's equally important to keep cooling your body down, as it is to keep hydrated. As a rule systematically apply water to head, and body even leg areas
Due to the heat, you'll find that your water will heat up quickly and may become undrinkable. I find that it's best to carry water in a container or camel back that has some kind of cooling insulation.
Take money with you. If you're feeling the heat initiate plan B and take a taxi back to the hotel. You'll also be extremely happy to have a few Euro handy to buy a bottle of cold water or ice tea.
Electrolytes and salt tablets. Love them or hate them, if you're planning a long run you're going to need them! In the heat your body will be working double time and important minerals will start to deplete quickly. To avoid cramps, dizziness fatigue and nausea, make sure you pack enough electrolytes to cover your run. Some destinations (especially the islands and rural areas) in Greece you'll find it difficult to find a runner's store, so it's best bring your own.
Running on the roads
You really need to be on your toes when it comes to the crazy Greek drivers and clueless tourists on rented cars and motorbikes. I really can't stress this enough, during the high tourist season road traffic increases to insane levels. To run safely here are a few tips:
1.) Avoid the main roads where possible
2.) Start early because there is less traffic flow.
3.) You'll need all your senses, so please avoid earphones and music.
4.) Run close to the edge of the road with the oncoming traffic facing you.
5.) Be attentive, don't daydream.
6.) Stop, look around and then take the selfie.
Need any information on running in Greece? Feel free to drop me a line: social@tripelina.com